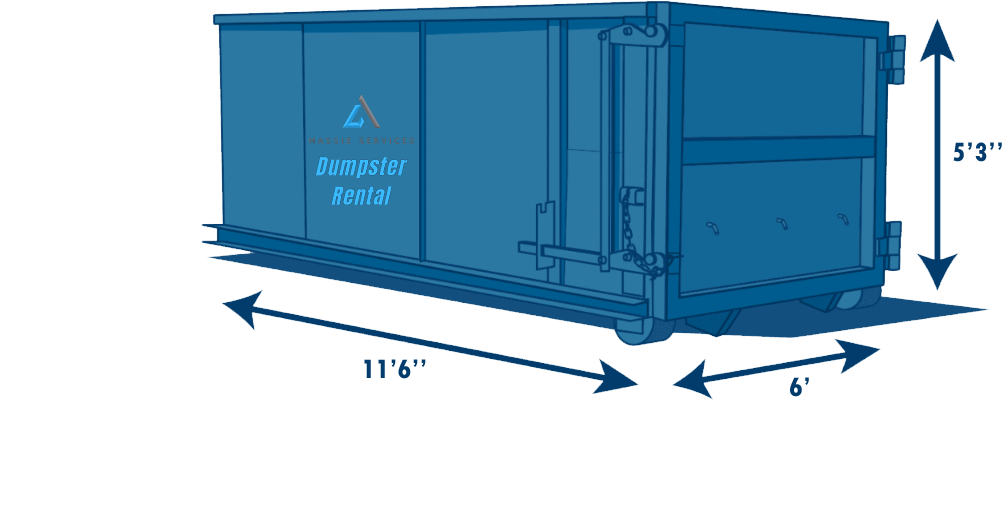 20 Yard Roll-Off Dumpster
Massie Services Dumpster Rental Company is proud to offer their clients the 20 Yard Roll-Off Dumpster. This dumpster offers an efficient and reliable way of disposing large amounts of waste materials in a safe and organized manner. It can be used for various types of projects, from construction sites to residential properties. The 20 Yard Roll-Off Dumpster is a great choice for those who need a dependable solution when it comes to waste disposal.
The 20 Yard Roll-Off Dumpster provides many benefits that make it ideal for managing any type of project. It has a robust steel frame that makes it extremely durable and capable of holding up to twenty cubic yards of debris at once. With its large capacity, this dumpster ensures that all kinds of waste materials are disposed off quickly and efficiently without causing any environmental damage or inconvenience. Additionally, its heavy duty wheels ensure easy maneuverability so that it can be transported easily from one site to another with minimal effort.
Finally, Massie Services Dumpster Rental Company also offers affordable rates on these dumpsters which allows customers to get quality services at reasonable prices. They have experienced professionals who can provide valuable advice regarding proper use and maintenance as well as help with scheduling pick-ups whenever necessary. All these features combined make the 20 Yard Roll-Off Dumpster an excellent choice for anyone needing an effective waste management solution.
Selecting the right size dumpster for your project is like finding a needle in a haystack. It can be difficult to determine which one will work best when you are unfamiliar with the different sizes available. Massie Services Dumpster Rental Company offers yard roll-off dumpsters that range from 10 cubic yards up to 40 cubic yards and can accommodate any type of debris generated by residential or commercial remodeling projects, demolition projects, or construction projects.
When selecting a yard dumpster size, it's important to consider how much debris needs to be disposed of and what type of material makes up the amount of debris being discarded. For instance, if a homeowner is doing some minor landscaping and only has light materials such as leaves, grass clippings and small twigs, then they would likely need only a 10 yard roll off dumpster. On the other hand, if an individual is demolishing a building or undertaking large construction projects that generate heavy amounts of debris such as brick and concrete, then they may require up to a 40 yard roll off dumpster.
Massive Services provides clients with several choices in terms of container sizes so they can find the perfect fit for their specific project needs. From smaller jobs requiring minimal disposal capacity all the way up to larger scale jobs needing maximum hauling capability, we have exactly what you need every step of the way.
Capacity Of Yard Containers
When choosing a yard roll off dumpster, it is important to consider the size and capacity of the container. The amount of material that can be placed inside varies depending on the size, ranging from 10 yards up to 40 yards or more for construction projects. A smaller, 10-yard deep capacity dumpster would work great for small residential projects such as landscaping or spring cleaning. For larger projects like home remodeling or demolition jobs, choose a bigger 20-35 cubic yard dumpster rental option which will fit more debris in one load.
In order to determine what size dumpster you need, first estimate how many yards of material your project will generate. After this calculation has been made, review Massie Services Dumpster Rental Company's list of available sizes and select the appropriate sized yard roll off dumpster. It is also recommended to rent an additional bin if needed so all materials can be easily disposed at once rather than multiple trips with different containers.
Massie Services Dumpsters Rental Company's team provides their customers with knowledgeable advice about selecting the right type and size of roll off rental container for any job requirement. To ensure customer satisfaction and safety when renting a yard container, they provide instruction regarding proper filling techniques and disposal regulations specific to each area served by their company.
Roll off dumpsters are available in a variety of sizes to suit the needs of different projects. When deciding which size container is best for your project, it is important to consider how much debris you may need to dispose of and what type of material will be collected. Massie Services Dumpster Rental offers yard roll-off dumpsters that can range from 10 yards to 40 yards in size. These containers are ideal for disposing heavy materials such as renovation debris or large amounts of yard waste.
The most popular size for residential jobs is the 20-yard roll-off dumpster. This mid-size option is perfect for medium sized cleanouts, landscaping projects, small construction jobs, and other home renovations that generate several tons of debris. The larger 30-yard and 40-yard roll-offs should typically be used on commercial sites where more substantial volumes of trash are expected.
When ordering any size container from Massie Services, customers can expect prompt delivery service with a specialist who knows how to safely drop off their new container using a specialized dumpster delivery truck. They also offer convenient container to container exchange services so you won't have to worry about taking extra trips to the landfill when disposing excess waste.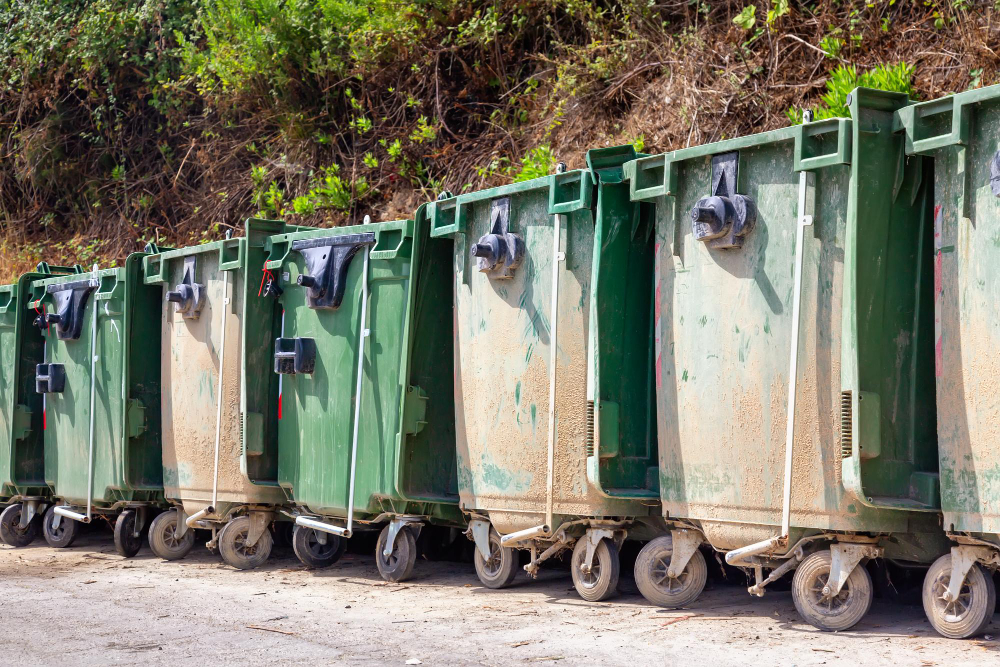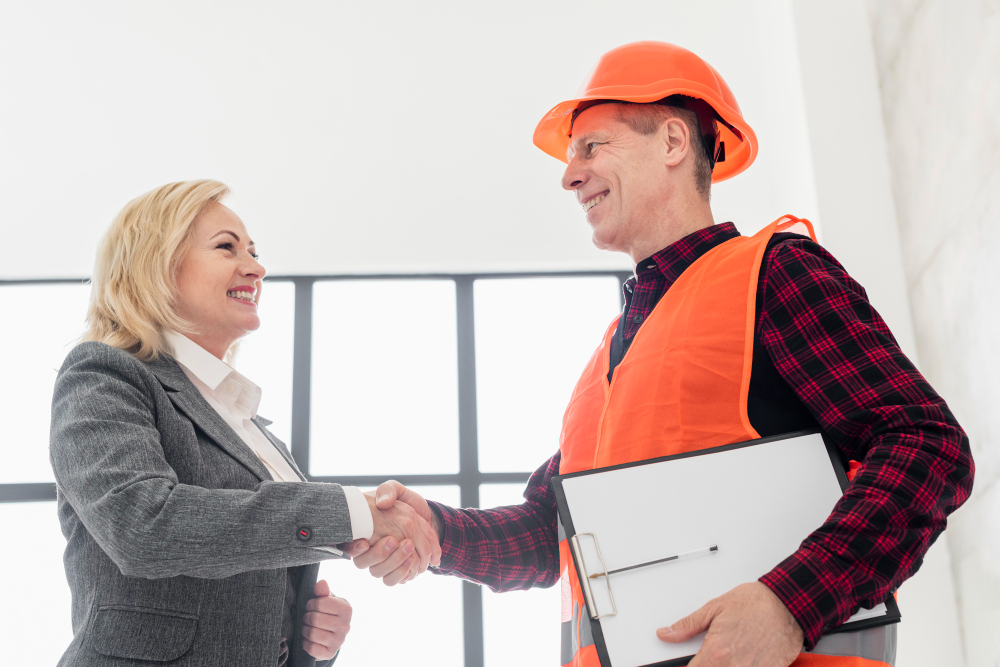 Why Contractors Prefer Us
Massie Services Dumpster Rental Company offers a variety of roll off solutions for contractors. Our dumpsters are ideal for yard waste, heavy items and junk removal from construction sites. We provide detailed placement instructions that ensure the safety and security of our customer's property while using our services. In addition to being able to handle large loads quickly, we also offer an efficient haul off service as well as prompt delivery of new dumpsters when needed.
Our company is committed to offering high quality customer service, working with each contractor on a personalized basis to meet their needs. By providing flexible terms and payment plans, we make it easy for businesses to find the right solution for them at an affordable price. With Massie Services' wide selection of sizes, shapes and materials available, customers can choose the perfect dumpster for their business without any hassle or inconvenience.
To ensure top-notch quality throughout our process, we follow all local regulations regarding proper placement and disposal of trash in accordance with environmental guidelines. Our team is dedicated to making sure that every job goes smoothly so that contractors can finish projects on time and be sure they're done correctly according to state rules and regulations. From start to finish, Massie Services provides superior roll off solutions that are tailored specifically to fit individual needs.
Massie Services Dumpster Rental Company provides streamlined billing options for customers renting yard roll-off dumpsters. Customers can choose from a variety of rental periods, depending on the size and type of project being undertaken. For roofing projects or major cleanouts, longer rental periods may be necessary to ensure that all debris is removed in an efficient manner. Shorter rentals are sufficient for minor landscaping projects, garage cleanouts, de cluttering projects, and other typical cleanup tasks.
The company offers competitive rates and flexible payment plans so clients can rest assured they are getting their money's worth with each job. To make things even easier, Massie Services also accepts credit cards as a form of payment; this allows customers to pay quickly and securely online instead of having to wait until invoices arrive by mail. Furthermore, the company's highly trained staff assists customers every step of the way when it comes to finding just the right size dumpster for their needs.
At Massie Services Dumpster Rental Company, customer satisfaction is always top priority. The team works hard to provide quality services at fair prices while ensuring safe disposal practices are followed throughout each job. This commitment has earned them years' worth of positive feedback from satisfied customers who have taken advantage of their economical yet reliable services time and again.
When it comes to streamlining your billing options, Massie Services Dumpster Rental Company offers many solutions. But when you need a reliable dumpster for your project, how do you know which option is right? A yard roll-off dumpster may be the best choice:
These containers are typically 15 feet long and 8 feet wide, making them ideal for large-scale demolition projects or jobs with significant debris on job sites.

You can also rent one of these units in minutes and get same day delivery service if you sign up before noon on the day of signing.

Even if a cubic yard container isn't suitable for your needs, there are still other alternatives available through Massie Services Dumpster Rental Company such as 10-15 yard residential dumpsters and 20+ yard commercial dumpsters.

If questions remain about any type of dumpster rental, our team is here to help by offering an extensive list of FAQs that cover topics like collection fees, weight restrictions and more solid waste disposal information.
Massive Services Dumpster Rental Company makes selecting and renting a dumpster easy so that you can focus on completing your project quickly and efficiently without worrying about the details. No matter what size or type of rental unit you require, we have a solution to fit all budgets and timelines - just give us a call today!
Cleanouts and outdoor projects often require the rental of a dumpster, such as those offered by Massie Services Dumpster Rental Company. According to statistics, 1 in 5 Americans have completed or plan to complete a home improvement project this year. With that in mind, it is essential to understand how roll-off dumpsters can help with these tasks. Cleanouts typically involve removing bulky household items from garages or businesses locations; landscaping projects may include demolition of existing features and other construction materials; while future location changes often necessitate a move of furniture and equipment.
Massie Services offers convenient services for all types of cleanouts and outdoor projects. They provide yard roll-off dumpsters in various sizes depending on the needs of the customer's current location. These containers allow customers to contain debris safely away from their property until they are ready for pick up - making cleanups much easier! Additionally, Massie Services has an experienced team available 24/7 who can answer any questions about renting a container or properly disposing of its contents when finished.
Roll-off dumpsters are an effective way to manage waste during large scale renovations at both residential and commercial locations. Not only do they make cleanup more efficient, but also reduce potential hazards associated with improper disposal methods. Ultimately, Massie Services provides reliable solutions for every type of outdoor project imaginable - ensuring smooth transitions throughout the entire process.
Massie Services Dumpster Rental Company is pleased to offer customers a variety of roll-off dumpsters for rent. Our company offers sizes ranging from 10 yards up to 40 yards, and we have the expertise necessary to accommodate any project type. Whether you are looking for disposal services for medical waste or hazardous materials, recycling materials, industrial projects, office projects, bath remodeling projects, roofing projects or cleanouts; Massie Services Dumpster Rental has the perfect solution.
Our customer service staff can provide clear instructions on how to fill your container and ensure that it is properly loaded so as not to exceed weight limits. We also offer convenient delivery options with flexible pickup times. All our containers feature durable construction and easy access openings so regardless of what material needs disposing of - we are here to help make your job easier!
At Massie Services Dumpster Rental Company our goal is simple: provide an efficient and cost-effective way to manage all types of debris disposal jobs. Regardless of the size or scope of your project, our team will work hard to get you what you need in a timely manner while helping keep costs down. Contact us today for more information about renting one of our roll-off dumpsters.
When renting a dumpster, it is important to remember that you may need permits for certain projects. This will depend on the type of project and your local municipality's regulations. Roofing projects, cleanouts, minor landscaping projects and remodeling projects often require permits before disposing of the waste in a roll-off container.
Massie Services Dumpster Rental Company provides reliable waste solutions with our variety of dumpsters which are fit for any job size or amount of waste. Depending on the requirements of your specific project, we can provide mini containers up to 40 cubic yards in capacity for larger home renovations or roofing jobs. If your project involves special wastes such as concrete, asphalt, dirt, wood chips and tree stumps then consider using one of our waste compactors which have been specifically designed for these materials.
No matter what type of project you are undertaking, always check with your local government agency first to see if a permit is required or not. Massie Services Dumpster Rental Company has years of experience helping customers find the right solution to their waste disposal needs so contact us today and let us help you get started quickly!
Construction grade dumpsters are like the heavy lifters of the world when it comes to waste removal and disposal. They provide support for major projects such as roofing, block removals and demolition that generate tons of waste. At Massie Services Dumpster Rental Company, we offer a wide variety of construction grade dumpsters with convenient custom pickup schedules tailored to meet your needs.
Our exact dumpster prices make budget planning easy for any project size. We also provide helpful customer service representatives who can answer questions about our services or help you determine which type of construction grade dumpster will best suit your needs. As an added bonus, all our rental agreements come with several free services including delivery, pick-up and dumping fees at approved facilities.
At Massie Services Dumpster Rental Company, we understand how important time is during large scale projects so we prioritize getting your rental delivered on time with the right equipment in order to maximize efficiency and minimize cost. Our commitment to quality service makes us one of the most trusted providers in the industry today. Contact us now to learn more about our exceptional range of construction grade dumpsters!
At Massie Services Dumpster Rental Company, we offer a variety of financing options for our roll-off dumpsters. For hazardous waste removal or block removals, cleanouts and landscaping projects that require large amounts of waste to be removed, we provide special use containers as well. Our disposal costs are competitively priced and vary depending on the types of materials being disposed of.
We offer several different payment plans including monthly installment plans with no additional fees or interest charges. We also accept all major credit cards and electronic payments from select online banking services such as PayPal. In addition, customers can make one-time payments using cash or check if preferred.
Whatever your budget may be, Massie Services Dumpster Rental Company has an option available to meet your needs without compromising quality service. To learn more about our various financing options please contact us today so that we can find the right solution for you.
Frequently Asked Questions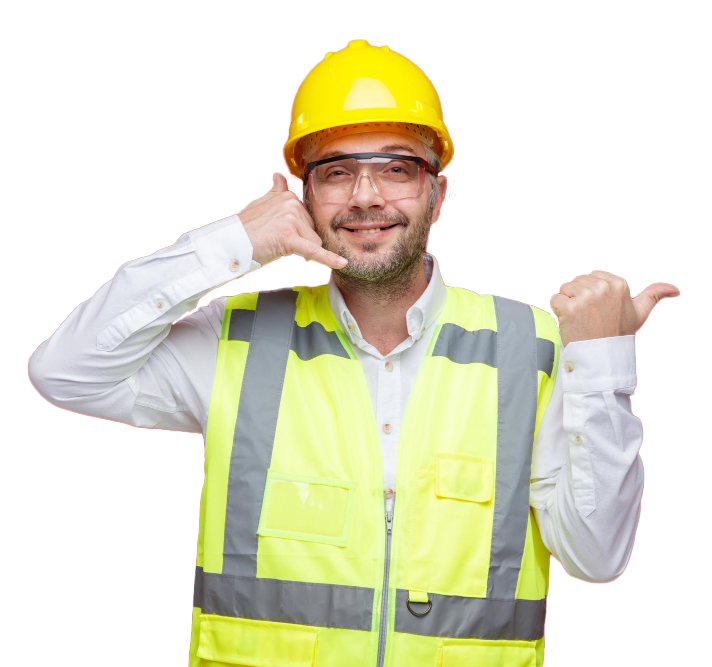 Get in touch with Massie Services Dumpster Rental, your one-stop solution for efficient and reliable waste management! Our team of professionals is dedicated to providing exceptional customer service and ensuring your waste disposal needs are met with ease. Whether you're a homeowner tackling a renovation project or a contractor managing a large construction site, our versatile range of dumpsters is designed to accommodate any waste disposal requirement. Don't let debris and clutter stand in your way; contact us today for a hassle-free dumpster rental experience. Call, email, or visit our website to request a quote and let us help you maintain a clean and organized space. Your satisfaction is our top priority, so reach out to Massie Services Dumpster Rental now and let us do the heavy lifting for you!
The 20 Yard Roll-Off Dumpster is an effective and economical solution for a variety of waste disposal needs. It can be used to remove construction debris, yard waste, furniture, appliances, and other items that are too large or bulky to fit in regular trash bins. On average, it takes about 3 days for the dumpster to fill up before needing to be emptied again. Massie Services Dumpster Rental Company offers same day delivery of the 20 Yard Roll-Off Dumpster in most locations.
In terms of what kind of materials can be placed in the 20 Yard Roll-Off Dumpster, most types of non-hazardous material may be accepted including general household garbage, dirt and concrete as well as metal scrap like old cars and bicycles. However, hazardous materials such as paint cans, oil containers and propane tanks should not be disposed of in this type of container unless there is a fee associated with their removal. Special equipment is not needed to move a 20 Yard Roll-Off Dumpster but it should only be handled by trained professionals who have experience working with these units.
At Massie Services Dumpster Rental Company we understand that proper waste management is important both from an environmental standpoint and economically speaking. In fact, according to recent statistics compiled by the Environmental Protection Agency (EPA), Americans generate approximately 250 million tons of trash every year which amounts to roughly 4 pounds per person daily! With our convenient rental services you'll never have worry about how handle your trash ever again!
DUMPSTER RENTAL IN LEWISVILLE, TEXAS