Title: A Little Sumthin Sumthin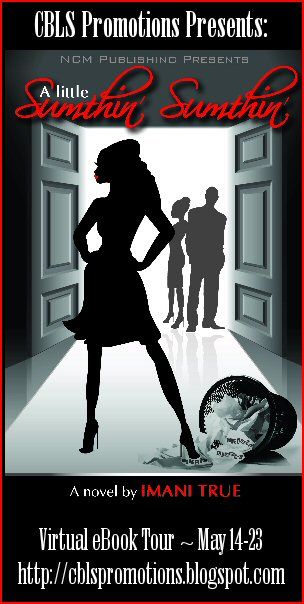 Author: Imani True
Publisher: NCM Publishing
Release: February 13th 2012
Genre: Drama, Romantic Suspense, F/F
Pages:  212
Source: CBLS
Buy: Amazon
How do you start over when you never thought you'd have to?

Fatimah Briggs is tired of the games, tired of the lies.

Tired of her husband.

Malcolm has spent his entire marriage thinking only of himself and getting "a little sumthin sumthin" on the side. Plus, when he's angry, he lashes out at the one person who's always believed in him, even when it tore her heart to pieces. But after one confrontation too many, Fatimah decides that enough is enough. When her bruises heal, she refuses to return home, choosing instead to start a new life without Malcolm.

Enter Xiomara, Fatimah's sexy new boss who wants so much more. That's when Fatimah is forced to face some truths of her own, and finally take charge of the situation.

But more than a few people aren't going to like the 'new and improved' Fatimah. And dealing with "a little sumthin sumthin" may prove to be more than anyone should be expected to handle.

A Little Sumthin Sumthin is a story of staring over, and finding strength when you thought you had none. It's a tale of karma, truth, and ultimately, survival because sometimes, what goes around, really does come around.

For Fatimah, the trick will be staying alive long enough to see it happen.
Continue reading "{eBook Tour} Review: A Little Sumthin Sumthin by Imani True"