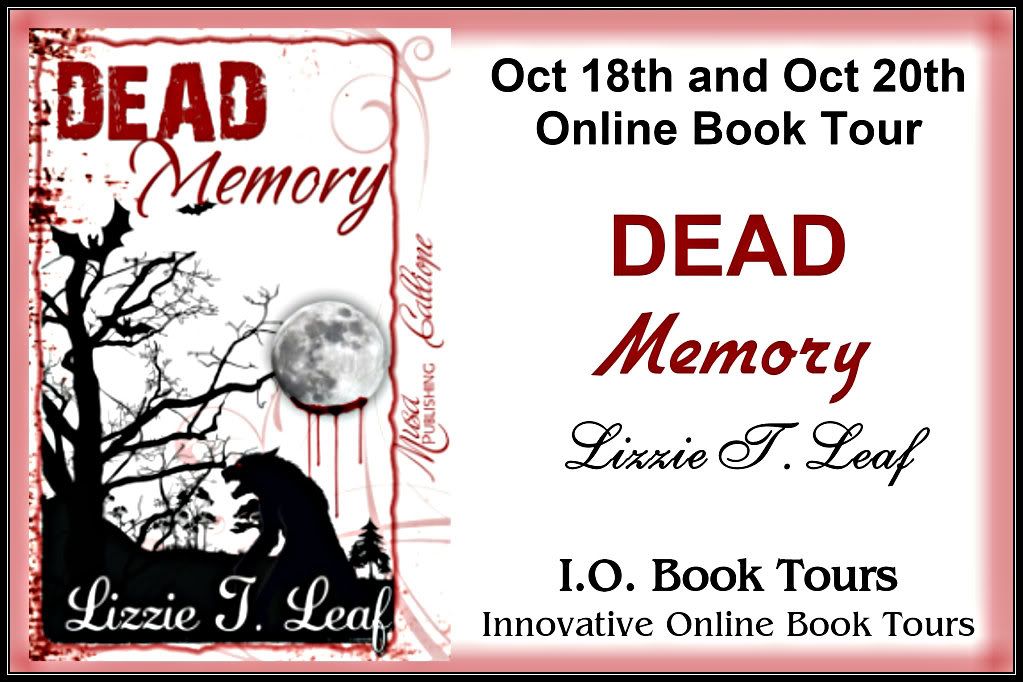 Today I'm pleased to also share a great little interview with none other than the author of DEAD Memory, Lizzie T. Leaf!
Make sure you enter to win her wonderful prize pack below 🙂
.
Title: DEAD Memory

Author: Lizzie T. Leaf
Publisher: Musa Publishing
Release Date: August 2012
Genre: Erotic, Paranormal, Romance
Length: 40k words
Source: I.O. Book Tours
Buy: Musa Publishing | Amazon
Frustrated with her father's demand she find a mate, Tawny does, but it's not one that will receive her family's blessing. Plus, her new love has no memory of his past…even his name.

Discovering an unconscious man who may be vampire, in the neighbor's yard leads werewolf Tawny Howls down a love path that's not going to make her father happy. She senses this man is different, but that doesn't stop her attraction. Werewolves and vampires are traditional enemies, and it doesn't help when he remembers nothing about his prior life.

Awakening to find a beautiful woman hovering over him, he remembers nothing of his past life. When Tawny decides to call him David, he's fine with the name and the attention he receives from his nurse. But why does the scent of the prey she hunts excite him more than the food she cooks?

Can the strong attraction between a shifter and a vampire overcome years of distrust for each other's species? Will the discovery of his true identity ensnare them in a battle that endangers their lives, in an effort to save mankind from Demon rule?
Continue reading "{eBook Tour} Interview w/ Lizzie T. Leaf ~ Author of DEAD MEMORY"