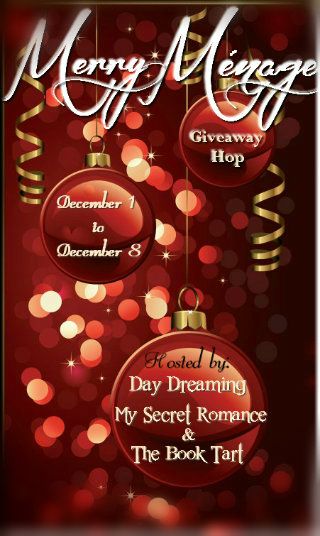 Come join our Merry Ménage Giveaway Hop hosted by Day Dreaming, My Secret Romance and The Book Tart!
Need a new bedtime story to light your fire? Looking for something with a little heat to warm you during the cold holiday season? Feel like decking the halls naughty style? Well then, come join us as we stand under the mistletoe for this wickedly sexy giveaway hop! The more the merrier!
Have no worries, we'll help you trim your trees, deck yours halls, and spark that fire!
Below you will find a little excerpt from "Blood's Voice" by Áine P Massie (book #1, House Millar series). Also, there is my giveaway. . . for "Blood Bound", book #2 in the House Millar series.
Both books are told from Mistress Anya's POV and revolve around not only her learning to live as a vampire along with humans, but with her human lover, Declán, and her vampire lover, Nicholas. What she didn't know was that the relationship wasn't a V but rather a ménage, lol. . .  Or, at least she didn't until the excerpt below
---
BLOOD BOUND 
(Book 2, House Millar series) 
Published February 29th 2012 
NA Paranormal Romance
eBook: Geas Publishing | Amazon |ARe | B&N 
Print: Geas Publishing | Amazon
How many ways can a hearts true love be shared? After poisoning, near death attacks, consummated passions, and possible insanity visit Anya, Nicholas, and Declán they embark on their future. Or at least they try to. Jealousy can be a pain, in more ways than one.

Can Anya protect her lovers, find peace within herself, and lead the House Millar? With her loves and guards, Nicholas and Declán, she sets out to do just that. If only life, eternal life, were that easy.

Come take a walk with our loving family and witness the strange turns and twists as life, love, and passions collide with greed, politics, and evil.
---
(Book 1, House Millar series)
Published June 1st 2011
NA Paranormal Romance
eBook: Geas Publishing | Amazon 
Print: Geas Publishing | Amazon
Anya Millar had no memory of her life or an instruction manual on how to navigate the insane world of humans, biting, and reality. Instead, Anya has had to learn to navigate the world of love, life, and sanity while avoiding those that would see her dead or enslaved.

Anya must come to terms with who she is and her missing past, Nicholas must win back the object of his eternal love while dealing with new cravings in his silent heart, and Declán must learn to destroy the very creatures that he has unequivocally given his heart and blood.

This is the ongoing journey of Anya and Nicholas, human loving vampires and the human they love, Declán. What makes it all more complicated is that they are abominations in their own world and Declán is a natural born vampire hunter called a Guardian.
   Declán chuckled in my ear and he suddenly was on top of me, pinning me down, grinning wickedly.
   "Be good," Nicholas laughed. "She can still take you, ya know."
   "Don't I wish!" Declán nearly growled. His look shifted from playful to hungry without missing a beat.
   I flashed a look at Nicholas, but he didn't look any calmer.
   "Declán? What are you doing?" I demanded, flipping us over so I was suddenly straddling Declán, my knees on either side of him. I half pulled him up into a sitting position, not moving away from him. "Are you insane?" Was he really going to start this with Nicholas right there?
   I couldn't focus. Nicholas was abruptly behind me, kissing down my neck as Declán began kissing my mouth fiercely. I was vaguely aware of Nicholas's hands reaching around me, to untie my top, and slide it down my now exposed shoulders.
   "But, I–"
   I felt Declán's hands begin to explore my body as Nicholas breathed into my ear sending shivers violently through me. Why were they doing this to me? I couldn't resist them both. "Let yourself feel, love," Nicholas murmured.
   The cravings for Declán were truly painful, exquisitely so, but I suddenly wanted more from Nicholas as well. In my mind, I knew this was a terrible idea, but I just couldn't seem to care and threw myself into loving them both as much as I was physically able.
   Their hunger seemed just as intense and consuming as their hands and mouths both began the feverish explorations of my body. I could tell the difference in their touches, Declán's soft and warm versus Nicholas's cooler, iron grip but all I could think was more and how they were both mine. It sent an exquisite piercing through me when Nicholas grasped me, pulling my face roughly into his chest, and I felt my fangs descend through his flesh.
   His gasp was cut short as Declán locked his mouth over Nicholas's.