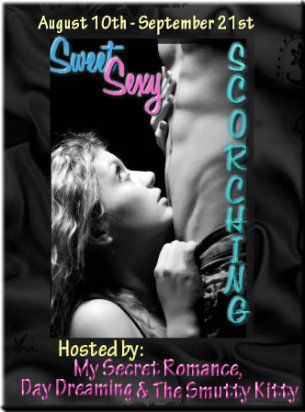 Be sure to follow the hop to all the stops to try and figure out the 'Guess Who' post. If you would like to be in the drawing for the grand prize, please make sure you fill out the Rafflecopter form. It only needs to be filled out once from one blog each day to be entered. Thank you and good luck!!
.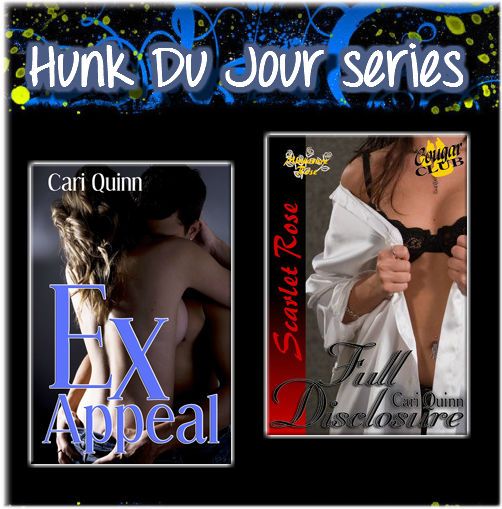 Full Disclosure
Book 1 of the Hunk De Jour Series
Thirty-eight-year-old divorcee Holly Burrows has had enough of battery-operated love. Prompted by an ad left at her law office, she investigates Hunk Du Jour, a website designed to foster "adult connections". After weeks of sexy emails and phone calls with surf hunk Kent, she's ready to test their chemistry in person. But first she has to get through lunch with her colleague Alex, a man with a brain as agile as his body.
When their consultation ends with a bang, she barely remembers the man she'd lined up for dessert. Now she thinks she's juggling two hot young guys. How can she choose between her two gorgeous cubs… and why do they remind her of each other?
Excerpt ~
His hair brushed his collar, messily kempt in its own wayward style. She doubted he'd seen a barber in quite a while. She also doubted Alex was the type of man who'd wince if she yanked his hair too hard during sex.
That sealed it for her, and placed the cherry red lipstick kiss on the envelope. After her sexually anemic ex-husband, she deserved a young stud. And hell, she'd make sure the young stud got a lil' something out of the deal, too.
"It is."
After the waitress took Alex's card, she rose, sure she seemed more confident than she felt. Her poker face had held her in good stead before, and it would now, too.
She'd simply act as if she were a sexy, voracious older woman who expected her every sexual demand to be met, and he'd never guess differently. He'd never guess her toes were curled in her sedate pumps, or that the back of her neck had already dampened, despite the air conditioning.
He'd never guess, and she would never tell.
She slid her hand down the strap of her bag. Coquettishly, she hoped. "Your place or mine?"
Alex stared up at her. There could be no debating the hue of his eyes now, a pure, rich green. Her heart skipped, much to her chagrin, but she couldn't help it.
Had a man ever looked at her in quite that way before? As if he'd assessed every inch of her, and she'd come up a winner in every category?
What a heady feeling. And scary as hell.
He signed the credit card slip when it was presented to him and thanked the waitress. Then he stood beside her, drawing her gaze up to his sculpted jaw and the sexy cleft in his chin. He was taller than her five-ten by a good four inches. Maybe five.
Another huge plus. There weren't a lot of guys who made her feel small—okay, smaller—but Alex did.
Of course, she'd taken note of his height in the office. Not the only thing she'd noticed. He also filled out a pair of well-cut trousers quite nicely. But she'd pretended not to notice, just as she pretended now to be unmoved by the heat of his hand as he touched her arm. Just that single contact, his fingers on her wrist, tightened her nipples to painful nubs.
Come to Mama.
"Let's go to your place. I want to see where you live." His gaze skipped over her face and continued down over her discreetly displayed cleavage in a way that was more proprietary than proper. "Where you sleep."
When his fingers crept under the sleeve of her jacket and brushed her thrumming pulse, she gave him a flirty smile. She so could do this. In fact, if she didn't take full advantage of this experience, she'd kick herself for the rest of her days.
"Where I won't be sleeping tonight," she said softly.
________________________________________
Ex Appeal
Book 2 of the Hunk De Jour Series
As the webmistress for one of the Northeast's hottest dating sites, Hunk Du Jour, Jenny Talbot is no stranger to reading the applications of potential clients. But when the latest application that crosses her inbox belongs to Ty Randall, the guy she broke up with a mere twenty-seven days ago, she does a double take.
Reading what Ty wants in bed not only gets Jenny hot, it also makes her rethink ending their relationship. All she longed for was a little more spice in the bedroom—okay, a lot more—but he let her go without an argument. Faced with the possibility that Ty may really be moving on, getting her ex back becomes more appealing than ever. But will revealing exactly what she needs allow Jenny to finally experience ultimate pleasure or will she drive away the man she loves for good?  
Books Available @
Cari Quinn wrote her first story – a bible parable – in 2nd grade, much to the delight of the nuns at her Catholic school. Once she saw the warm reception that first tale garnered, she was hooked. She attempted her first romance in junior high, long before she'd ever read one. Writing what she knew always took a backseat to what she wanted to know, and that still holds true today. Cari's genres of choice include contemporary, romantic comedy, romantic suspense, urban fantasy and paranormal. Recently she discovered erotic romance. Oh, how far she's come.
Site | Blog | Facebook | Twitter | Goodreads
Remember, following is sexy!
Cari will be giving away two ebooks to 2 separate winners, plus a $5.00 AMZ/B&N gift card to a 3rd (winner's choice.)