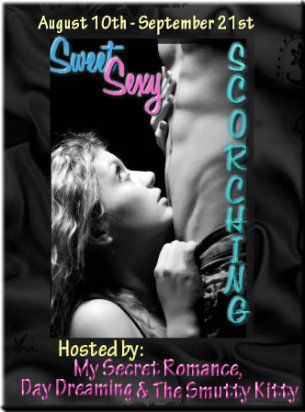 Be sure to follow the hop to all the stops to try and figure out the 'Guess Who' post. If you would like to be in the drawing for the grand prize, please make sure you fill out the Rafflecopter form. It only needs to be filled out once from one blog each day to be entered. Thank you and good luck!!
.
.
My Shifter ShowMance
Order now from NOOK / KINDLE / ARe / SAMHAIN
Thomas Lyons is your average cat shifter. Cool, seductive…and bored out of his mind. With the new popularity of all things paranormal, he doesn't see why he should hide anymore. When his half-demon technophile roommate hooks him up with a computer, Thomas starts a blog announcing to the world who and what he is. Oddly enough, the more he shares, the less he's believed. In fact, people begin thinking it's a new online series with fantastic effects.Margo Sheffield doesn't dance on tables anymore, not since her reckless naïveté cost her so much. These days, her only guilty pleasures are dark chocolate, shoes—and a certain website with a man whose purring voice sends shivers down her spine. When the show, Shifting Reality, offers a week in a haunted Scottish castle with the stars, it seems a far-off dream. But when that dream becomes reality, her boss's insistence that she mix business with pleasure—or else—is more like a nightmare.
Thomas's focus on the show is blown by the luscious, camera-shy handful. And Margo can barely think about contracts when she's surrounded by newlywed ghost hunters, a matchmaking demon and a man whose addictive touch makes her head spin. A showmance is the last thing she needs, but with a sexy cat like Thomas on the prowl…she just can't resist.  
Warning: Tons of explicit sex. A cat shifter with an oral fixation, voyeurism, anal sex, sex in pantries, with ghosts…you get the idea. 
My Demon Saint
Order now from KINDLE / NOOK / ARe / SAMHAIN
Saint is half human, half demon…all trouble. With his roommate Thomas mated to Margo, and Mac on one of those long, lonely, feeling-eternally-sorry-for-yourself vampire vacations, Saint is on his own and restless.A lovesick shifter's request to locate a woman isn't exactly his idea of fun—he's no matchmaker—but he agrees. And finds not only his quarry, but a whole lot more than he bargained for: a top player in his own online game that, until now, has somehow escaped his notice. A woman so tempting that when she touches the keyboard with her fingertips, he can feel it right down to his bones.Housebound for the last few years due to an accident, Ume's only distraction from the endless physical therapy sessions has been an online role-playing game. When she logs in this time, though, something is different. She finds herself lost in the game—literally—and falling for a mysterious warrior on her way to face the Demon King in his lair.And that's before it gets weird.
Warning: Explicit sex. One sexy, smart-mouthed demon, an adventure game, and more than a touch of kink. Sex online and then sex ONLINE.
EXCERPT
What in Hell was going on?
Scratch that. He knew exactly what was going on in Hell. The stereotypical slashing and shattering of hopes and dreams. Sex, drugs, rock and roll and the occasional sacrifice. And that was just the first level. What Saint really wanted to know was, what was going on with him?
Liam was on his way to San Francisco, armed with a Bluetooth and the promise of help from a demon. Half demon, but it meant the same thing. Saint was as bound to that promise as he was to his next breath. Especially since it would get him what he wanted in return.
Ume.
He was
like a junkie, terrified and longing for the next fix. He'd touched her life for an instant, and now he couldn't wait to get back. So why hadn't he? Why was he hesitating?
He'd felt something, a jolt, a connection that he'd never felt before. It was as though a ghost had reached in to grip his heart. Among other things. Almost as if she'd touched him back. Connected to him without even being aware of it herself.
How was that possible? She was related to Julie Wu. And Julie was one hundred percent human. From that swift influx of feeling and information he'd received, Ume was too. But then, how had she affected him so strongly?
There was nothing to do but reconnect. Find the answers he needed. He wouldn't be able to relax until he had them.
He caressed his phone and opened his laptop, feeling the energy from both of them. Through these portals lay the life force of a billion souls crying out to be heard, to be seen in the darkness. They pulsed with desires. They resonated in his mind, a symphony of secret sins, a carnal cacophony of greed and lust, envy and fear. And hope. That one refrain that always set humans apart. Hope in the face of uncertainty and the knowledge of their temporary natures. It brought the rest into harmony. Gave it purpose.
But he didn't want to listen to their music tonight. He only wanted to hear one voice. Hers.
Find Ume.
With a thought he was there. In her home. In her life. Invading every facet without remorse. This was an unknown entity. This was war. He felt the heat of her body as though she were beside him, and he knew it was true. She was different. If the feeling wasn't enough, irrefutable proof appeared right in front of him.
She was playing his game.
When he scrolled through her stats and found the date she began playing, his jaw dropped. Months. Closer to a year. She had leveled up dozens of times, been online nearly as often as he had, and he'd never noticed her.
It wasn't possible.
If he was just a man, maybe. The world of Demon Saint was large, even by serious gamer standards. For a normal man it would be tantamount to finding the proverbial needle in a mountain of hay.
Saint was not a man. This was his game. It was a part of him. He hadn't just developed the code—he was the code. He created as he went, for individual and group desires, with demons to challenge each avatar's strengths and weaknesses. He was Demon Saint. And the only way she could have slipped past his notice would be if she had some sort of magical protection.
Her character wore a pearl necklace enchanted to ward off evil. But every character gave themselves imaginary protections. Those only worked within the confines of the game. And only when Saint wanted them to.
He stood up and started pacing. Was she a trick? A test from his paternal side? A Trojan horse with Helen's allure custom made to reel him in? But no, she wouldn't be. His father had no time for him. That sick sod had only one purpose. Seduction. He had no patience for games or vampires or any of his bastards. He was too busy making them.
Saint went back to his chair and tried to relax. Tried being the operative word. With no roommates to stop him, he was about to do something stupid. He had to have more information about her. Had to talk to her.
He was going in.
He gave himself a human warrior character he'd used before. One just strong enough not to draw attention. After insuring the penthouse was protected from any unwanted visitors, he left his physical body behind, his consciousness streaming seamlessly into the avatar.
Saint had walked through his creation before. Interacted as if he were one of them out of boredom or curiosity. It amused him to no end to talk about himself in the third person. To listen to the players postulate or brag or outright lie about run-ins with the Demon King, Saint.
This time he was on a mission with only one mantra in his head. Find her. Find her. A few tweaks to the code should do it. He'd take her out of the countryside where she was protecting a group of whining villagers with her friends and put her in a more…conducive setting. She would give in to him. He would find out exactly what made her tick.
And then he'd wind her up.
Best-selling, award-winning romance author R.G. Alexander aka Rachel Grace has been called "a true storyteller" who creates "complex, humorous and heartbreaking characters" and vast and expansive worlds. She has written in the paranormal, sci-fi fantasy, and contemporary erotic romance genres for Samhain Publishing, Ellora's Cave Publishing, and Berkley Heat.

Since her first story released in February 2008, RG has penned over 23 stories, served on the board for the Passionate Ink Chapter of Romance Writer's of America, is a current moderator for the award-winning writer's forum Romance Divas, and has been on several character and worldbuilding panels at The Romantic Times Convention. She is a founding member of a successful group blog of erotic romance authors known as The Smutketeers, who graced the cover of RT Book Reviews in 2011, and were mentioned in a scholarly article for promoting positive feminine sexuality.

She has a appeared several times on Dissident Radio's shows Breaking Taboos and Rebel Goddess.
Blog | Smutketeers | Facebook | Twitter | Goodreads | eMail
Remember, following is sexy!
RG will be giving away a $10.00 gift card to Amazon or B&N! Leave your email in the comments section at the end of this post for your chance to win.