Tasty Tuesday is a weekly meme, hosted by authors Tempeste O'Riley and Carrie Ann Ryan. Anyone can play as long as you have a WIP or Published Manuscript to tease us.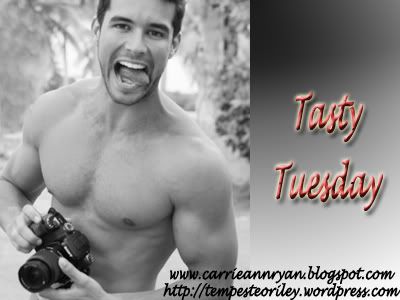 _________________________________
Today I'm sharing a little bit from Blood Bound, book 2 of the House Millar series. Stay tuned, below the tease there is a 50% off coupon for you to use through the month of July!
One Stubborn human and one reluctant vampire . . .
Whatever could they get up to . . ? 😉
No, no, no. This is too dangerous. I have to stop.

I pulled away from his luscious throat but he used the grip on my hair to stop me. I watched with a surreal fascination as he pressed some strange metal object – it looked vaguely like a curved, sharpened thimble – into the flesh of his own neck and pulled me back to his neck.

What the hell . . . Oh Gods.

With a sudden gasp, I lost control. The moment his blood touched my tongue that strange ecstasy filled me again. This elixir, intoxicating and luscious, drove me into a frenzied euphoria, my body singing in delight. It was pure rapture as all of me delighted in the gift of his existence.

It was over so soon, almost too soon, as I was able to still keep my mind restrained, thankfully. I started to pull away, nicking my tongue and teasing lightly over the wounds with my blood – no need for him to hold the wounds.

"Why did you–"
_________________________________
How many ways can a hearts true love be shared? After poisoning, near death attacks, consummated passions, and possible insanity visit Anya, Nicholas, and Declán they embark on their future. Or at least they try to. Jealousy can be a pain, in more ways than one.
Can Anya protect her lovers, find peace within herself, and lead the House Millar? With her loves and guards, Nicholas and Declán, she sets out to do just that. If only life, eternal life, were that easy.
Come take a walk with our loving family and witness the strange turns and twists as life, love, and passions collide with greed, politics, and evil.
http://bit.ly/bloodbound-smash
Use the code SSW50 at checkout for 50% off!
(Offer good thru July 31, 2012)