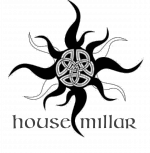 Yeah . . . Six Sentence Sunday! How about another 6 sentences from my WIP, Glamour Blade – book 3 in the House Millar series?
Our sidhe warrior has just made contact with the vampire he was hunting, so let's sit back and watch the sparks fly . . .
"Mmm, who do we have here?" The aberration's sensuous voice carried a subtle undercurrent of curiosity mixed in with desire.

"Rory, sir." Looking up from under his lashes, he smiled coyly and arched into the man's touch as he asked, "and you are?"

With a quirk of a small smile, he leaned down to whisper in Rory's ear, "I'm Lorccán, though I like the way sir sounds coming from your sweet lips." Tracing the shell of Rory's ear with a fingertip, he continued to purr, "Why don't you accompany me outside, piscín."
* piscín – kitten
For those new to this, the rules are simple:
Pick a project – a current Work in Progress, contracted work or even something readers can buy if you're published
See? Easy. Want to play? See the site for information on how to do just that: http://sixsunday.com
If you have a Twitter account, you can add the hashtag #sixsunday to your tweets when you tweet a link to your Six Sentence Sunday post. If you're a writer (regardless of published/unpublished status) come join us!